Throwback Thursday #37
Throwback Thursday is a bookish meme hosted every two weeks by me and Stephanie @Bookfever where we feature books that we've read in the past but are still crazy about. It could be a book you read as a child and still remember and love or maybe just a book that you haven't read in a long time and want to show your love for.

Each week we'll be featuring a new random question to answer!
My pick this week: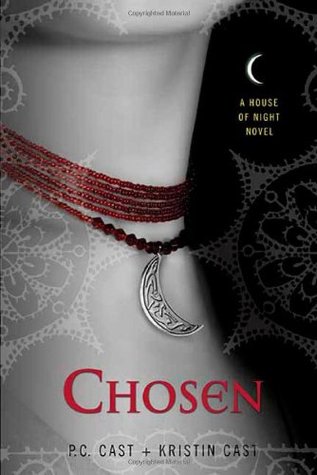 Chosen by P.C Cast & Kristin Cast.
Dark forces are at work at the House of Night and Zoey Redbird's adventures at the school take a mysterious turn. Her best friend, Stevie Rae, is undead and struggling to maintain a grip on her humanity. Zoey finds herself in the very unexpected and rare situation of having three boyfriends. Mix a little bloodlust into the equation and the situation has the potential to spell social disaster. Just when it seems things couldn't get any tougher, vampyres start turning up dead. Really dead. It looks like the People of Faith are tired of living side-by-side with vampyres. But, as Zoey and her friends so often find out, how things appear rarely affects the truth…
Someday I kind of wanna read one of these in english and see how it is.. still laugh and how confusing it got talking about them because the danish version changed the names. Not many got to keep their original name and even worse the ones they changed they didn't even change into something super-danish. Silly.
"You know how it is with cats: They don't really have owners, they have staff."
What characters from a book do you wish were real?
Aw, man that list can go on and on and on and on....
I don't even know where to begin. There's so many amazing characters out there, some you wish you could have as a best friend and some well as more, haha.
Looking at the shelf, let's start from there.
Well there's LUX by Jennifer L. Armentrout, so let's just say pretty much all of those, okay. Naah, but Katy and Daemon for sure. Both hilarious and really would be awesome talking books with Katy. Keeping with the same author, under a different name though, there's also Cam from Wait for you that I loooove. He's amazing, I wouldn't mind him coming and cooking brekfeast for me.
So, there's a lot more and I feel like I could go on forever, but I'll finish with Will Herondale from The Infernal Devices by Cassandra Clare. No matter what I think he remains my favorite, now whether that means it'll be fun showing him around in this time or going back to his I don't even care, would be great no matter what.
Answer in the comment section! If you'd like to participate in Throwback Thursday you can add your post to the linky below. Feel free to add a favorite quote of the book you're spotlighting as well in your post. :)