Review: "Lead" by Kylie Scott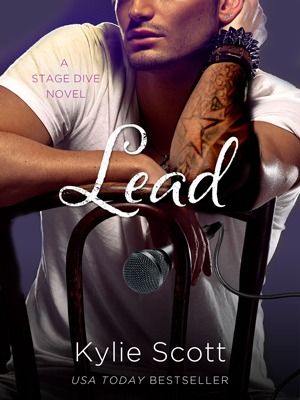 Stay up all night with the sexy rockers in Stage Dive, the epic New Adult series from New York Times bestselling author Kylie Scott, author of Lick and Play.


As the lead singer of Stage Dive, Jimmy is used to getting whatever he wants, whenever he wants it, whether it's booze, drugs, or women. However, when a PR disaster serves as a wake-up call about his life and lands him in rehab, he finds himself with Lena, a new assistant to keep him out of trouble.  




Lena's not willing to take any crap from the sexy rocker and is determined to keep their relationship completely professional, despite their sizzling chemistry. But when Jimmy pushes her too far and Lena leaves, he realizes that he may just have lost the best thing that ever happened to him
I've always loved books with rockstars, mostly because what's more hot than a guy who can sing or play an instrument. None, though have done it better than Kylie Scott. Another amazing book in her Stage Dive series, this time with Lead singer Jimmy.
Jimmy usually gets whatever he wants, but the PR disaster means he has to get his act together or leave the band. To help him keep it together is his new assistent, Lena. Someone who doesn't get him what he wants and doesn't take any of this crap. However the chemistry between them is hard to ignore.
This was Jimmy is all his glory, rude as fuck and not a single social nicety to him.
Jimmy is way more complex than the other Stage Dive guys and much harder to get under the surface with. Lena did not have it easy getting through to him. I love the way she's able to handle him and doesn't take any of his s**t. Lena is definitely another great leading lady, I don't think I'd be able to choose between who I like best. Lena's just.. badass basically. She's very relateable, sassy and simply has a good heart.
Now Jimmy... since the first book he has not been on the top of the list of guys to adore for me. This book changed it all though. There's way more to him and he has already changed a lot since that first book. After finishing this... I love him! There's a lot of things burried under the surface and this book offers a look into his mind.
I loved Lena and Jimmy's story and they really fit perfectly together. I can't even say anything else that it's a must read and if you haven't read any of the other Stage Dive books, then get to it cause they're just as amazing.
An arm shot out, wrapping around my neck, pulling me in against him. His whole body trembled.
"You okay?" I asked.
A nod.
"Feeling a little emotional, huh?" I petted his hair. "That's okay. It was an emotional blow job."
Kylie is a long time fan of erotic love stories and B-grade horror films. She demands a happy ending and if blood and carnage occur along the way then all the better. Based in Queensland, Australia with her two children and one delightful husband, she reads, writes and never dithers around on the internet.