Review: Smut by Karina Halle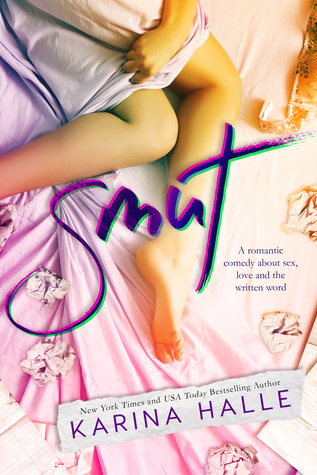 What happens when the kink between the pages leads to heat between the sheets?

All Blake Crawford wants is to pass his creative writing course, get his university degree, and take over his dad's ailing family business. What Amanda Newland wants is to graduate at the top of her class, as well as finally finish her novel and prove to her family that writing is a respectful career.

What Blake and Amanda don't want is to be paired up with each other for their final project, but that's exactly what they both get when they're forced to collaborate on a writing piece. Since Amanda thinks Blake is a pushy asshole (with a panty-melting smirk and British accent) and Blake thinks Amanda has a stick up her ass (though it's a brilliant ass), they fight tooth and nail until they discover they write well together. They also may find each other really attractive, but that's neither here nor there.

When their writing project turns out to be a success, the two of them decide to start up a secret partnership using a pen name, infiltrating the self-publishing market in the lucrative genre of erotica. Naturally, with so much heat and passion between the pages, it's not long before their dirty words become a dirty reality. Sure, they still fight a lot, but at least there's make-up sex now.

But even as they start to fall hard for each other, will their burgeoning relationship survive if their scandalous secret is exposed? Or are happily-ever-afters just a work of fiction?
Not really surprised that this turned out so amazing. It's Karina Halle so of course!
One of best romances is two people that kind of hate each other, but suddenly find out that the other person isn't half bad. Enemies to lovers, it is awesome.
That is exactly what this is. Amanda and blake have a writing class together, one Amanda takes very seriously because she wants to be a writer. Blake however from her point of view is there for the easy grade and maybe to pick up chicks. When they get an assignement together it's the last Amanda wants, but she wants a good grade and is determined to make it work. As it turns out, they're amazing together. After their success on their assignment Blake comes with an offer for her. That they write erotica together and self publish. As they write their attraction becomes harder and harder to ignore especially because of what they write. It isn't long before the things they write are acted out.
From the start I knew I'd love this book. First few pages in and I was hooked.
This book was so funny, sweet and with just the right amount of dirty smut.
As mentioned I love enemies to lovers- like Blake and Amanda.They spend so long denying it that you just wanna smush their faces together, but all of that makes it that much better when something actually happens..and when it does. Well that's where the smut comes in. And it is good smut. Despite their differences, they work really well together. Meanwhile you can laugh with the banter they have going which is always fun.
I fell in love with this story, I loved how it turned out and everything in between.
With lines as "Bite a book if you have to." It's really a no brainer, read it!
Amanda is hilarious and Blake is just the right amount cocky.
Karina Halle's writing is as always flawless really have no complaints there.
Hilarious and sweet read.
Author:
With her USA Today Bestselling The Artists Trilogy published by Grand Central Publishing, numerous foreign publication deals, and self-publishing success with her Experiment in Terror series, Vancouver-born Karina Halle is a true example of the term "Hybrid Author." Though her books showcase her love of all things dark, sexy and edgy, she's a closet romantic at heart and strives to give her characters a HEA…whenever possible.
Karina holds a screenwriting degree from Vancouver Film School and a Bachelor of Journalism from TRU. Her travel writing, music reviews/interviews and photography have appeared in publications such as Consequence of Sound, Mxdwn and GoNomad Travel Guides. She currently lives on an island on the coast of British Columbia where she's preparing for the zombie apocalypse with her fiance and rescue pup.
Karina is represented by the Waxman Leavell Literary Agency.