Review: The Pact by Karina Halle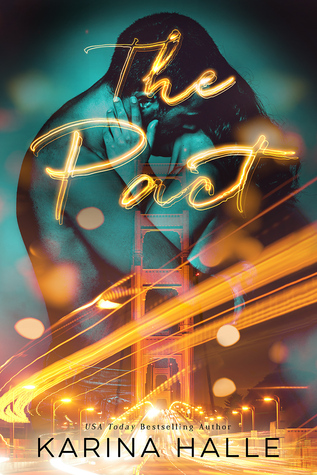 It all started with a pinky swear…

Linden McGregor is tall, rugged, and gunslinger handsome; a helicopter pilot with a Scottish brogue and charm to spare. He's also one of Stephanie Robson's best friends and has fit into that box for as long as she's known him.

But some relationships can't be boxed, can't be classified, can't be tamed.

Back in their mid-twenties and tired of the competitive hit-or-miss dating scene of San Francisco, Steph and Linden made a pact to marry each other if neither one of them are in a serious relationship by the time they hit thirty.

It sounds like fun and games but as the years to thirty tick past and lovers come and go out of their lives, the pact becomes larger than life.
Sex is inevitable. Friendships are tested. Hearts are on the line.

The pact is about to change everything.
*Very few spoilers*
It's so hard to put into words how much I
actually love this book. It was just one of those
impossible to put down, I started it and finished
it the same day- had to stay up till 5 in the
morning because I couldn't just stop! Already early on I just knew I was gonna love this one.
So pretty early on we learn just why this book is
called the pact. It's because Stephanie and
Linden, two friends make a pact that if by the
time they're 30, if none of them is in a serious
relationship they'll marry eachother.
I wanted Steph. My best friend. She was my baby blue and I was her cowboy.
So a pact, a foolish naïve pact, was born.
From there we go on, through the years as they
both near the big 30. They both have relationships,
some more serious than others, but despite that
you sit and hope that now is the time that
they'll realize how much they like eachother and
actually go through with it. I kept thinking,
nooo they're not gonna hit 30 before anything
happens, right? The chemistry between them is
crazy and because it was from both POV you get
to experience how they both think and how they
really feel about one another.
But alas, 30 comes and go and as luck would have
it, they're in relationships and somehow that line between friends to lovers is hard to cross after all these years and they also have a mutual friend who's also Steph's ex that they have to consider.
Don't think I've ever had a book where I'm
shaking because of what's going on and completely
wrapped up in the characters so much, it was crazy- I felt everything they felt and cried and laughed, just went through it all. Guess it made it worse when you got both their POV and saw how they felt, very frustrating. I was really rooting for these two, Linden and Steph- Cowboy and Baby Blue (aww right, their nicknames for eachother), I wanted them to just get together! Now! and in my head I kept going 'just go on, do it!'. However I actually liked that both the guy and the girl for once have other relationships, it quickly becomes typical that the guy has had multiple relationships while the girl maybe none or just 1. I felt it was very realistic the way that it went about with them, they both dated met other people and realized that relationship wasn't working for them.
"In the end you might have all my pieces, " I tell her. "Please be gentle with them."
Such a fantastic book! The writing, the story, the POV's- all perfection.
Can't find a bad thing to say. I loved the characters, of course some you like more than others, but there always has to be someone to hate on as well so that's all good. Both the main characters were easy to follow, Steph a strong independent woman and Linden the hot Scot who went after his dream despite what his parents said.
Besides all those valid points for picking up this book there's also enough steam in it to heat up your kindle (if that's where you read it).
Amazing book that's definitely worth a read, added to my favorite pile for sure.
And I'll end with saying "Just a wee bit" cause that's been stuck in my head ever since reading it, I would walk around and suddenly say just a wee bit and laugh to myself because of the context, something you'll learn in the book. But that's just another wee reason to love Linden.
She narrows her eyes at me playfully. "You're a pig."

"You've called me that before."

"If the show fits."

"Pigs don't wear shoes."

"They do on cartoons." she points out.
(about eggs they're eating)

Steph: "Don't tell me you laid these."

Linden: "I can tell you what got laid and it wasn't those egss."
"You look like a Disney Princess."

"A Disney Princess?"

"Yeah," he whisperes roughly. "One of those princesses who look like they might give you a BJ if you play your cards right but in the end she probably won't."
With her USA Today Bestselling The Artists Trilogy published by Grand Central Publishing, numerous foreign publication deals, and self-publishing success with her Experiment in Terror series, Vancouver-born Karina Halle is a true example of the term "Hybrid Author." Though her books showcase her love of all things dark, sexy and edgy, she's a closet romantic at heart and strives to give her characters a HEA…whenever possible.
Karina holds a screenwriting degree from Vancouver Film School and a Bachelor of Journalism from TRU. Her travel writing, music reviews/interviews and photography have appeared in publications such as Consequence of Sound, Mxdwn and GoNomad Travel Guides. She currently lives on an island on the coast of British Columbia where she's preparing for the zombie apocalypse with her fiance and rescue pup.
Karina is represented by the Waxman Leavell Literary Agency.