Review: "The Golden Apple" by Michelle Diener
The Golden Apple by Michelle Diener
Kayla's world has been turned upside-down . . .
Her father has made her the prize in a deadly, impossible tournament, and Kayla has retaliated in the only way she knows how; by choosing her champion beforehand. But taking control of the outcome changes the game completely, and when the real reason behind the strange test becomes apparent, Kayla realizes not just her life, but her entire kingdom is at stake.
Rane's honor is torn in two...
In order to save his brother, Rane will do whatever he has to--including deceive and betray a princess. He knew nothing about this tournament would be easy, but when it turns into a deeper, far more sinister game, Rane is forced to see it through to the end, or leave his brother at the mercy of their enemy.
Now their fates are entwined, and they must venture into the deep, dark forest together . . .
Kayla and Rane are bound to one another by an enchantment and Kayla's actions. But the sorcerer forcing them to do his will may have miscalculated, because no-one comes out of the Great Forest unchanged. No-one.
The Golden Apple is loosely based on the fairy tale The Princess on the Glass Hill.
*4.5 stars!*
*Review copy provided in exchange for an honest review.*
This was one fantastic fairy-tale re-telling. There wasn't a moment of it that was boring. Right from the beginning we're thrown into Gaynor and with none other than the princess, Kayla who's sitting on a glass mountain holding a golden apple that the knights at the bottom will have to try and get from her to win. As it turns out there's more to this than becoming Kayla's betrothed and the golden apple is not just what you see, turns out there's a spell and to get rid of this there's a quest. I just love that word, a quest. That's exactly what Kayla, princess of Gaynor and the man who got the apple from Kayla (with a little help from her), Rane.
What I really loved about this book was the well devolped story line. It's not straightforward- they go on their quest, defeat evil and come back- there's more to it. As there's more to the characters. Whenever you thought you had something figured out the whole thing turned around. There was constant excitement and I found the book very hard to put down at times because i kept telling myself just one more chapter and I can stop for now, but I always wanted to know what would happen next.
Besides the plot there were some amazing characters. We follow the story in Kayla and Rane's POV. Not only is Kayla NOT a typical princess who can't do anything for herself, she can fight for herself and learns more and grows on her and Rane's quest. A great female character to read about. Then there's Rane. I absolutely loved him. He will do anything for his brother, Soren even use Kayla to get to the thing that can save him. But even then I could never hate him, I know he had a good cause and despite it all, he wouldn't have done it if it wasn't because there was actually something between him and Kayla. The fact that they had shared a night together made the journey that more interesting as they had to deal with the tension between them and those moments between them and their interaction I loved. What I liked about the story is that there was a love story-line, but it did not take up too much space and took the focus away from the actual story.
Besides from the amazing story-line and great characters the world within was amazing. The kingdom with its sorcerers and the history of Gaynor as well as the origin of the much spoken of, wild magic. You could really let yourself get lost in this world and feel as if you were part of it.
So if you love magic, trolls, sorcerers, witches etc. this re-telling is a extraordinary choice.
I, for one, can't wait to see what's in store in the next book.
About the author: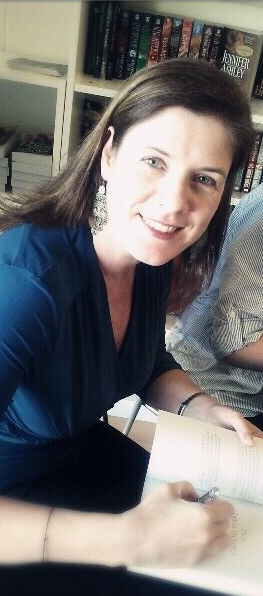 Michelle Diener
writes historical fiction and fantasy. Her Susanna Horenbout & John Parker series includes
IN A TREACHEROUS COURT
,
KEEPER OF THE KING'S SECRETS
and
IN DEFENSE OF THE QUEEN
. Set in the court of Henry VIII, it features the real historical figures of artist Susanna Horenbout and Henry's Keeper of the Palace of Westminster and Yeoman of the King's Robes, John Parker.
Other historical novels by Michelle Diener include
THE EMPEROR'S CONSPIRACY
and
BANQUET OF LIES
, both set during the Napoleonic Wars in London.
DAUGHTER OF THE SKY
is set in Zululand during the Victorian era.
Michelle's first fantasy novel
MISTRESS OF THE WIND
is set for a December 23rd, 2013, release. It is a retelling of the fairy tale East of the Sun, West of the Moon.
Michelle was born in London, grew up in South Africa, and now lives in Australia with her husband and two children.